Commercial Pressure Washing
Heat Wave provides commercial pressure washing in the Tampa and surrounding areas.
Realtors…
Curb appeal is EVERYTHING! HeatWave Commercial Pressure Washing can help. When selling a property you only get one chance to make a first impression. Having the property professionally clean will make your property stand out from the surrounding property. Many times having the property professionally cleaned will eliminate the need to repaint! Having a clean property also will show that the owner maintained the property on a regular basis.
Regular exterior cleaning can make all your exterior painted surface to last an additional 3-5 years. When algae and dirt build up on exterior surfaces they immediately begin breaking down protective coatings applied by the original manufacturer. If removed properly your exterior surface will last a life time.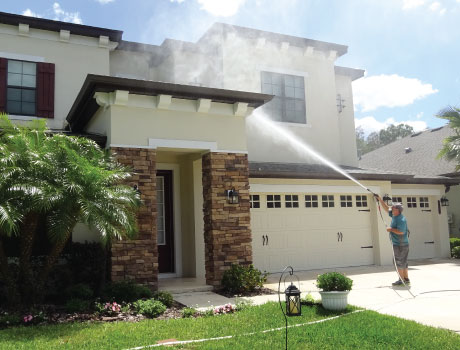 Heat Wave Pressure Washing suggest the following cleaning schedule:
Exterior of home
Driveways
Pavers
Pool Enclosure
Roof Cleaning
every 1-1.5 years
every 8-10 months
every 8-10 months
every 10-12 months
every 2-3 years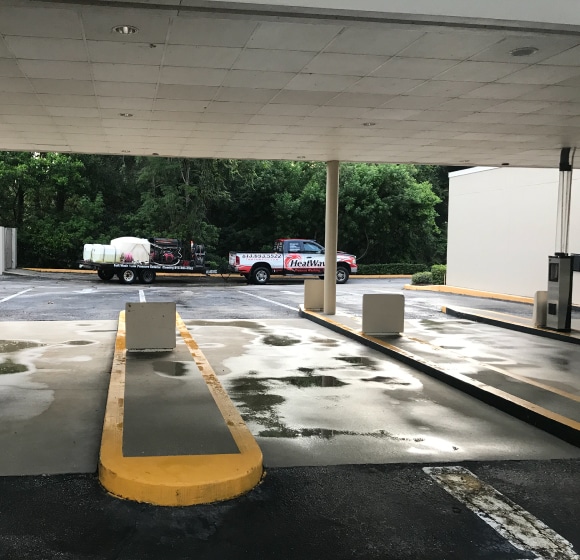 Types of Commercial Pressure Washing Jobs
Parking Garages
Parking garages are one of the most common types of pressure washing jobs we see in our area. We can quickly (and in off hours) clean a parking garage. We use special chemicals that not only gets the garage cleaner, but keeps it cleaner longer.
Buildings
We can pressure wash buildings of all sizes. We handle all different shapes and sizes of windows.
Specialty Structures
Do you have a structure on your property that needs to be cleaned? We can work with you for any specialty.
Sidewalks
Do you have sidewalks around your office or buildings that need to be cleaned? Some types of mold and other growth can create hazardous situations because of the slip factor.
Driveways and Alleys
We can pressure wash driveways, alleys and other paved areas. With our special detergent cleanser that is safe on all surfaces, we can get paved areas CLEANER and help them stay cleaner LONGER!